More info: www.juraplatz.ch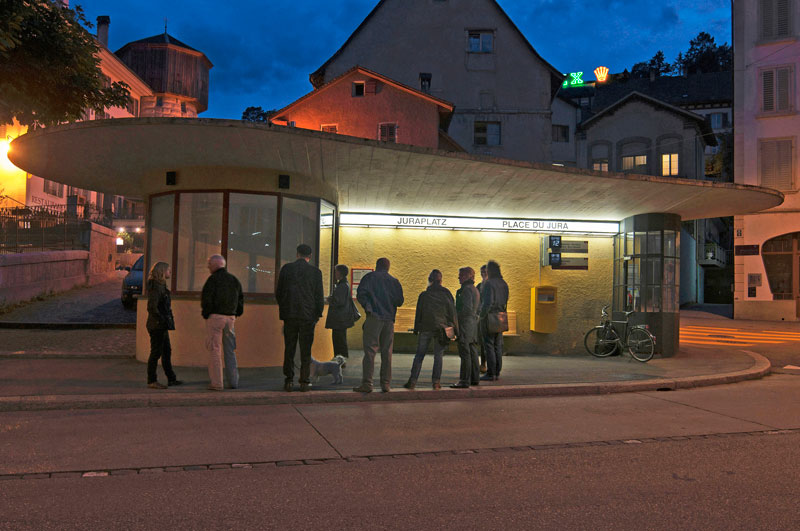 DISLOCACION IN KONTINUUM

software

köppl/začek


In collaboration with Chen Yongwei
July 23th / August 15th - 2011
Background — X and Y are invited to participate the Chinese artist Chen Yongwei for a collaboration work.
Materials and Preparation — Small bulbs with batteries connected, attached to the heads, shoulders, hips and hands. Camera and darkened room.
Procedure — X and Chen Yongwei give each other lessons in Swiss German and Chinese.
The camera records only the points of light (bulbs) attached to the bodies and the sound.  
---
DISLOCACION IN KONTINUUM

I wanna be chinese / Dinghi – Electric bicycles from China

Rainer Ganahl
June 18th / July 18th - 2011
In relation to Dislocation Exhibition, created and curated by Ingrid Wildi Merino, the video I WANNA BE CHINESE / DINGHI –ELECTRIC BICYCLES FROM CHINA from Rainer Ganahl will be presented at Juraplatz.
Rainier Ganahl modified the 1950's song "Tu voi far l' Americano" into "Tu voi far propio Cinese". The artist considers and questions the actual economic and political strategies in China. Since 1992, several Ganahl works have been inspired by the anticolonial theories of Edward Said. Ganahl uses foreign language learning as an instrument as an artistic gesture and thus analyses the political and economic world occurrences.

Rainier Ganahl was born in 1967 in Bludenz, Vorarlberg, Austria. He lives and works since 1990 in New York, USA. He studied Philosophy and History at the Innsbruck University. He studied with Peter Weibel in the University of Applied Art, in Viena, and with Nam June Paik in the Art Academy of Dusseldorf. In 1990 joined the Independent Study Program of the Whitney Museum of American Art, New York.

Ingrid Wildi Merino
---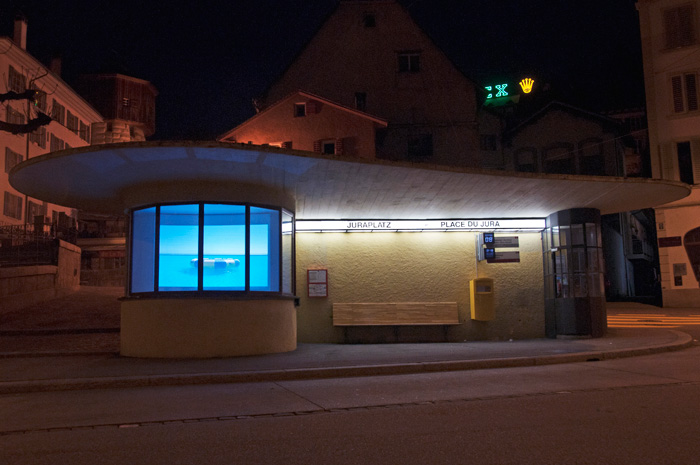 DISLOCACION IN KONTINUUM

BIG POOL

Nicolás Rupcich
March 15th / June 15th - 2011
Big Pool is presented at Juraplatz, Biel, as a part of the Exhibition "Dislocation", created and curated by Ingrid Wildi Merino.


Big Pool is a video made by Nicolas Rupcich in collaboration with Emilio Marín.
Ingrid Wildi Merino asks us a question, gives us an invitation to freely think of Dislocation, it causes and effects, where people from different nationalities and from different social backgrounds find and connect through common answers about how we live in this world.

The curator Ingrid Wildi Merino proposes the following text as a thought about Dislocation by Benoit Goetz, a way of getting close to the problems of a particular architectonic space as Juraplatz and, at the same time combine this concept of Goetz with the idea of how we live in this world, but our inner human world always depending on the external space: Political and Architectural.
La dislocation est l'évènement qui affecte l'espace contemporain. Mais on peut dire tout aussi bien que cet évènement était contenu de manière immémoriale dans l'espace lui-même qui est, par définition, une puissance d'écartement et de dispersion. Les mythologies du Lieu, les représentations du Monde empêchaient toutefois cet évènement d'éclater au grand jour.
Cette survenue de la dislocation n'a rien, en soi, de catastrophique. Elle signifie simplement que les espaces désormais flottent librement, détachés, insuperposables à quelque image du monde que ce soit, désamarrés de tout système cosmique, de toute croix orientante. Ni lieux, ni non-lieux, des espaces naissent et meurent au travers de processus complexes : construction, architectures, espace familier, espace social, espace public, espace culturel, espace du travail, devenirs qui emportent la citadinité, gestes et attitudes d'habitants et de passagers. La description de ces espaces relève donc à la fois d'une poétique de l'architecture du pense et d'une reprise de la question concernant le sens de l'habitation du monde.
Benoît Goetz,
« La Dislocation, Architecture et Philosophie. »
In "BIG POOL", there is devastation. A big silent pool that converges and goes around the Chilean sea. A hotel-city, a model for national and international tourism. The biggest pool of the world made by the growing economic development, just like in many artificial cities, currently converted into ghost cities around the world, where, due to the desire of creating big scale projects, these become grotesque.

Big Pool articulates how contemporary landscape is negotiated in our world.
Enrique Muñoz García